Learning Through the Arts
This program is our Arts Facet Legacy Award winning program of seven years. The goal was to provide fourth grade girls at our partner school with enrichment of their school experience. Through a joint effort with the Philadelphia Museum of Art, Penn Towne delivered a program of lively art education. the program incorporated exhibit visits, interactive discussion, critical thinking and journaling – all
designed to strengthen the learning experience of the classroom environment while providing a life-long love of the arts.
Hidden Figures STEM to STEAM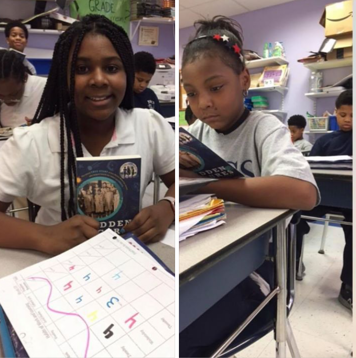 The Arts Facet sponsored the six grade students at our partner school, Russell Byers, in a movie trip to view Hidden Figures. Each student was also provided with personal copies of Hidden Figure Easy reader books. The school was also supplied with several library copies. The books were use to facilitate classroom discussion of the significance of the scientific accomplishments and how art
brought the story to the screen.
National Poster Art Competition
The Arts Facet participation in The Links, Incorporated National Poster Art Competition, held every other year, has enjoyed a successful partnership with Russell Byers. We have had students compete successfully at our Eastern Area level in the last two program cycles. The student's poster goes on to compete at the National level. One student received third place at that level and both students
were recipients of award certificates and cash prizes.