Our programs address five major facet areas: Services to Youth, The Arts, National Trends and Services, International Trends and Services, and Health and Human Services. 
Service To Youth (STY)
Program Facet is involved in efforts to eliminate the problems of African-American youth and their families, especially of drugs, crime and other social ills. Our chapter's goal is to provide opportunities through which self-esteem and positivity can be nurtured and reinforced. We do so through two mentoring programs – "Linked Little Sisters" & Roses in Bloom (RIB). The "Linked Little Sisters" program is new to our chapter; it provides a Link mentor for each young lady participating in the program. The young ladies are presently students at Westbury High School.  Our program topics for this mentoring program include, "getting to know you"; careers with an emphasis on STEM; healthy relationships and conflict resolution; college pride with a focus on HBCUs; and how to make the most of the summer break.
Since 2004, we have mentored young ladies under our award winning program, Roses in Bloom (RIB). Roses in Bloom is a group mentoring program where on a monthly basis, we meet with young ladies ages 12 -18 who are residents of Madonna Heights, a residential facility for vulnerable adolescent girls. Partnering with other service organizations such as the Eastern Shore Chapter of The Links, Theta Iota Omega chapter of Alpha Kappa Alpha, and Suffolk County Chapter of Jack and Jill of America we bring programs that influence positive change in the young ladies who are placed in the program due to traumatic home and/or community situations. The programs have included a variety of topics over the years, including building self-esteem; dealing with your mind, body and spirit; engaging in social media; careers; health and fitness; conflict resolution and managing stress; and dressing for success. We have also included two book club reads and discussions in our program. At the end of each session, we share refreshments and socialize with the young ladies. We believe that by seeing the best in these young ladies and giving them tools to better manage life, we are making a difference.
The Arts
Program Facet promotes the recognition of creative artists, especially African American, and programs that relate to our cultural heritage. Our chapter has a long tradition of supporting the performing, visual, literary and creative arts. The Long Island Chapter's "Discovering the Writer in Me" program was implemented to encourage participation, pride and achievement in creative writing within the targeted school districts and communities in Nassau and Suffolk counties. Many of the school districts we selected have limited resources, especially for the arts. Creative writing is a good way for the minority students to use their imagination, build their communication skills and enhance their ability to process information and ideas. The students come from various school districts, including: Brentwood HS, Elmont HS, Freeport HS, Hempstead HS, Westbury HS, Uniondale HS, and Roosevelt HS.
This year the facet has focused on poetry by conducting workshops for students focused on poetry performances.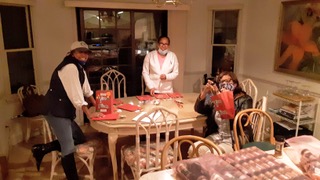 Making spice bags that were delivered to the ladies at Methodist Services.
National Trends and Services (NTS)
Program Facet's major goal is to keep Links knowledgeable of current national trends, to identify those issues and areas in our communities where our talents and skills can make a difference and have an impact on economic, political and social issues and affect the quality of life. The Long Island Chapter for several years has worked with the women at Bethany House. Bethany House exists to strengthen and assist women and children from Long Island. The non-profit agency was founded in 1978 to provide emergency shelter and services for women and their children who were caught in the crisis of homelessness. Due to different circumstances, the women have found themselves homeless; some with their children. We conduct workshops on various topics to help them get their life back on track.
The facet also coordinates with the Women's Bar Association of Nassau County and the WE CARE FUND to provide gently used suits and other professional clothing for job interviews for women. Finally, the entire Chapter collects toiletries that are donated to community organizations; and, participates in the Adopt-A-Family project during the holiday season
International Trends and Services (ITS)
Program Facet's goal is to ensure that each Link and community has greater awareness of international events, affairs and issues through personal involvement, commitment, enrichment and services. Our Chapter's Links International Foreign Affairs and Business Empowerment for Youth (LIFE) program for the last four (4) years has exposed minority students in Nassau Community College's (NCC) GEAR Up program; and, currently students at Hempstead High School to various aspects of international affairs, events and careers through workshops held at the Nassau County African-American Museum. The students participate in a local college tour and an annual trip to the United Nations (UN). The facet has also organized community programs/panels on Africa, Haiti, etc.
Health and Human Services (HHS)​
Program Facet's role is to promote and facilitate programs that support the maintenance of good health and elimination of chronic health disparities in communities of color through education, health advocacy, and optimal utilization of health resources. Our chapter has participated in various local walks (Breast Cancer, Diabetes) over the years. We also focus on addressing the issue of childhood obesity in Nassau County. At the present time we are working with elementary school children in the Westbury School district.
We have provided them with the "tools" to create a healthy lifestyle — educating them about how to create a healthy diet; what to eat and how it impacts your life.